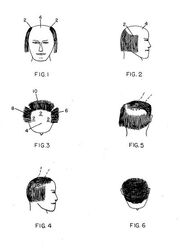 A comb over or combover is a hairstyle worn by bald or balding men in which the hair on one side of the head is grown long and then combed over the bald area to minimize the display of baldness. A variation of the comb over where baldness is concealed by long hair combed in three separate directions has a US patent by Donald J. Smith and his father, Frank J. Smith, of Orlando, Florida. The Smiths were awarded an Ig Nobel Prize in Engineering for their effort.
In Japan, men with comb overs are called "bar code men", referring to the similarity between the striations caused by the comb and the UPC on products. The "barcode style" is called "bākōdo na kamigata".
Famous comb overs
Edit
The Emperor Constantine I combed his hair forward to disguise his receding hairline.
In the UK, two people noted for comb overs were the former chairman of Call My Bluff, Robert Robinson (known as the "king of the comb over" and FIFA World Cup winner Bobby Charlton.
Former University of Illinois basketball coach Lou Henson had his combover style termed the "Lou-do" by ESPN announcer Dick Vitale. Earlier in his career, when Henson was a coach at New Mexico State University, he sported a close-cropped hairstyle that did not conceal his baldness.
In Spain, the Basque nationalist politician Iñaki Anasagasti is noted for his comb over, giving his name to comb overs ("hairstyle a la Anasagasti").
Algerian president Abdelaziz Bouteflika is known for his comb over in Algeria and neighbouring countries.
Gen. Douglas MacArthur wore a comb-over. His GI Joe action figure also has a comb-over.
Real estate promoter Donald Trump has been lampooned for his comb-over. Vanity Fair described it as a two-directional double combover, made visible in harsh lighting and the Daily Mail called it an "astonishing coiffure".
In popular culture
Edit
The Scottish comedian Gregor Fisher lampooned the comb over style with his character The Baldy Man, which featured in a television advertisement before graduating to its own TV show.
Stand-up comedian Heywood Banks sometimes sports a comb over despite having a full head of hair, stating "I'm not going bald, but I like the look!"
On an episode of Room 101, newsreader Lorraine Kelly called comb overs "Pedal Bin Hair".
One of the villains from Cars 2, Professor Zündapp, has a broken roof rack that resembles a comb over.
American film and TV actor Bill Murray wore a combover as "Ernie McCracken" in the film Kingpin. Also in Kingpin, but to a lesser extent, Woody Harrelson's character "Roy Munsen" also had a combover.